_
The taste of conviviality
_
Combining a glass of wine with an excellent gastronomic proposal: Collavini hospitality was born with this aim.
To welcome our guests in a warm and comfortable environment, we have created our Osteria della Ribolla, a unique place to taste the best specialties of Friuli.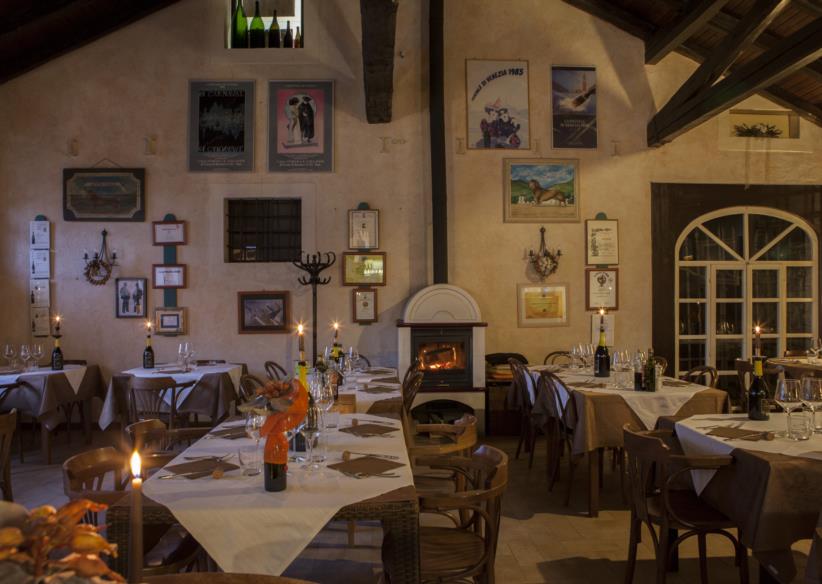 _
Friuli on the plate:
the ribolla tavern
_
In the background Villa Zucco-Cucagna, on the menu typical dishes of Friulian cuisine to be paired with a good glass of Collavini wine. The Osteria della Ribolla, born in 2006 and obtained from the cellars of the ancient manor house, is synonymous with domestic hospitality, excellent seasonal raw materials, elegant tradition.
A restaurant steeped in history, managed by Alberto Ticozzi who will welcome you with a classic tajut, a Friulian term to indicate a "glass of wine".
The gastronomic proposal will let you discover Friulian specialties of Hapsburg origin which, season after season, tell the flavors and slow rhythms of the past.
To surprise the most loyal customers, the Osteria della Ribolla offers a tantalizing novelty on the menu every week: the "surprise dish", chosen from the recipes created by the inspiration of the manager and room manager Alberto.
_
Collio and surroundings: ten destinations not to be missed
_
01. A Vespa ride on the Collio to discover the beautiful landscapes and the great white crus of the area.
02. Cividale del Friuli is a magical village, where you can admire the frescoes of the Longobard Temple and the view of the Natisone river from the Devil's Bridge.
03. For cyclists, a tour of the lands of Aquileia, a former Roman colony that has experienced Byzantine and Lombard influences, rich in antiquities to visit.
04. In an interweaving of canals and motes, the Grado Lagoon is perfect for a boat trip among the huts, characteristic houses once used by the fishermen of the area
05. Art is at home in Villa Manin, a majestic sixteenth-century residence that hosted the last Doge of Venice and the emperor Napoleon Bonaparte
06. Breathe in nature deeply with a walk that starts in Barcola (TS), and then arrives at Castello di Duino, passing through the Miramare Park
07. And how not to drink a coffee in Piazza Unità d'Italia, at the Caffè degli Specchi, Trieste's elegant Mondono lounge.
08. During the winter season, spend a day in the snow on top of Monte Zoncolan or on the slopes of Tarvisio.
09. For those who love shopping strolling through the streets of the historic centre, we suggest the shop windows between the Loggia del Lionello and Piazza San Giacomo in Udine.
10. The emotion of the border between Italy and Slovenia: in Piazza Transalpina in Gorizia you can find yourself on both sides of the national border at the same time.